Titans Franchise History – Pt. 2 Championship Edition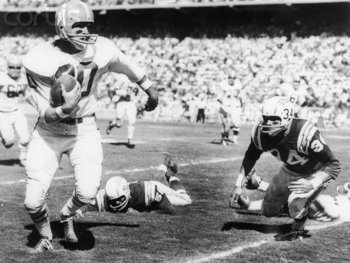 The foundation of the franchise was set and the AFL was ready for its inaugural season. A strong front office and a roster including a mix of key veterans and exciting young talent quickly gave the Houston Oilers an advantage that would carry them into three consecutive championship games. This time is not without its errors, however, as Bud's bumbling would create a deeply trenched pattern that would curse this team throughout its history. Again, this essay will lean heavily on John Pirkle's Oiler Blues with team states coming from Pro Football Reference.com.
The Final Touches
Though he put together a good coaching staff, Bud made himself GM. He is quoted as saying, "I figure the only way to learn pro football is to be intimately associated with it. You just can't get much closer than general manager, so I decided to take the job." Current Dallas Cowboys fans are suffering from the same decision. Bud filled many other positions with personal friends from his many businesses.
As an upstart league, the AFL vultured the cuts from the NFL to round out their rosters. The Oilers snagged ex-Lion Jim Norton. Training camp, as well as the others during this span, offered more difficulties for the fledgling team. It opened with major storms and then humidity, mosquitoes, flooded locker rooms, and no air-conditioning created an unexpected endurance test. Coach Lou Rymkus showed no favoritism and rubbed star rookie RB Billy Cannon the wrong way from the start. Statements such as, "Until you prove yourself on that football field, you're just another football player to me," and being described as "no stand-out player to me" weren't popular with the player or Bud.
Houston's first "home" exhibition game was in Tulsa, OK, near Bud's hometown. Pirkle, author of the book used for this essay, claims this is evidence of Bud showing Houston who owns this team. However, a few paragraphs later he contradicts himself, "[m]ost exhibition games were on the road in those days." Regardless, the whole event was a disgrace. Not only did they lose the game, but the Oilers got lost in the town (difficult to do) and missed their welcoming parade. They lost many of their jerseys and had to wear the Dallas Texans' other set of jerseys and helmets to go with the Columbia blue pants – white, red and blue. Good thing it was just the pre-season.
Are You Ready for Some Football?!
Spoiler Alert: The Oilers went 10-4 and were AFL East Division champs. They scored 379 points (27.1 per game) and allowed 285 points (20.4 per game). The team leaders aren't surprising as Blanda and Cannon topped the statistical charts at QB and RB.
1960 Houston Oiler Team Stats:
http://www.pro-football-reference.com/teams/oti/1960.htm
With his specialty being the OL, Rymkus had his work cut out for him with the group given him. He went so far as to turn one of his coaches into a player (Fred Wallner)! The opening game was in San Francisco versus the Oakland Raiders. The attendance was lackluster. However, the Oilers home field, high school stadium Jeppesen, hit capacity (with folding chairs) at 20,000. A low crowd of around 16,000 brought about Bud's first threat to move the team (in their initial season!). Beating the state-rival Texans in front of a healthy crowd of 19,000 helped calm him down.
As most fans of the NFL know, the competition in the AFL is not considered in strong regard. With the Oilers strong rush defense and questionable pass defense (common in the AFL), local reporter Mickey Herskowitz wrote, "Houston's weekly question is whether Blanda can throw more touchdown passes than the Oiler secondary gives up." As the stats above show, this was not a problem for the team.
The AFL title game was held in Houston on January 1st with the Oilers facing the LA Chargers (this rivalry goes WAY back, MCMers). Coach Rymkus used a Notre Dame motivation speech about the Great Northern Buffalo ([whispers] great white buffalo) to fire up his troops. Apparently this buffalo faces the strong northern winds head on instead of ass on. The lead changed three times and the Oilers were up 17-16 going into the 4th quarter. Third and nine on their own 12 yard line, Blanda hit Cannon for an 88 yard TD! 24-16 Oilers. A late miscue trying to punch in a fourth and one on the goal line gave the Jack Kemp-led Chargers one more chance. They drove deep into Oiler territory before time ran out. CHAMPIONS! Cannon was voted game MVP. Blanda surprisingly threw no interceptions and 3 TDs and 301 yards. The team, in their euphoria, had high praise for Bud. He promised diamond rings to everyone. According to Pirkle, these weren't delivered until after the 1960s were over.
AFL Championship Boxscores:
http://www.pro-football-reference.com/boxscores/196101010oti.htm

Link to previous installment:
http://www.musiccitymiracles.com/2013/5/26/4369056/titans-franchise-history-pt-1-genesis
This 1st season went on longer than I expected and decided to post it up now and get the next two seasons later. Going forward it is my goal to summarize whole blocks of time instead of focusing so much on single seasons. Again, I encourage discussion of this specific team, especially from those that lived through it or heard about it from others.