Let's take a look at some of the people that i think the Titans will be looking at to fill the QB vacancy  with in the draft.
 Jake Locker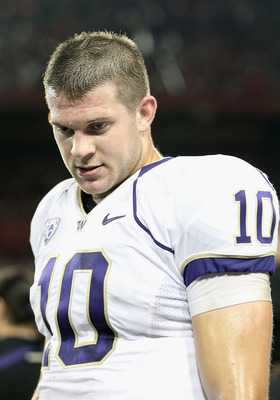 Christian Petersen/Getty Images
2010 Stats: 2,265 yards, 17 TDs, 9 INTs, 124.20 rating
Strengths: arm strength, athleticism
Weaknesses: decision making, touch
Locker might have some advice for Andrew Luck right about now, as he is a quarterback who saw his No. 1 status derailed by injury and ineffectiveness in 2010.
Despite the fact he completed just five passes, he was pretty good in the Holiday Bowl against Nebraska, and is still going to be a first-round pick.
Locker's main strength is his arm, as he gets a lot of zip on balls. This can get him in trouble at times, as he tries to force a lot of balls, and he could stand to put more air under the ball on deep throws.
He's likely not going to be a star right away, but he could end up being great if he continues to develop at the pro level. He'll probably go in the middle of the first round, maybe to a team like the Vikings.
 Blaine Gabbert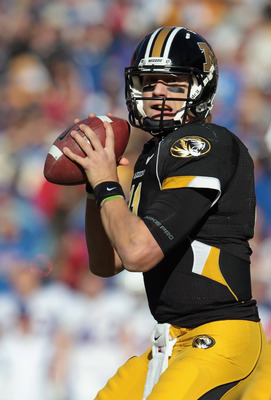 Jamie Squire/Getty Images
2010 Stats: 3,186 yards, 16 TDs, 9 INTs, 127.03 rating
Strengths: solid arm, above-average speed and quickness
Weaknesses: lacks touch, lacks experience with pro-style offense
Gabbert is the one player who stands to benefit the most from Andrew Luck's decision to stay in school, as many college football pundits had him as the No. 2 quarterback prospect.
And Gabbert is definitely deserving. He's a big guy with a solid arm and very good instincts, and his excellent speed and agility are nice bonuses.
Gabbert's arm strength isn't quite elite, however, and his accuracy can be inconsistent. He tends to try to muscle too many balls into small targets, and doesn't always take what the defense gives him.
He was decidedly awful in Missouri's two losses this season, which might suggest that when he's bad, he's reallybad. But he'll probably be a top 10 pick anyway, and might even go in the top five.
 Ryan Mallett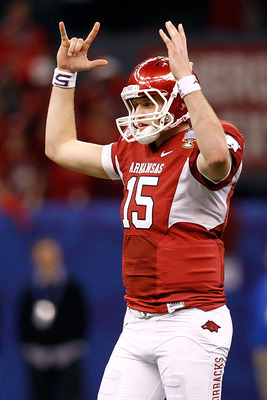 Chris Graythen/Getty Images
2010 Stats: 3,869 yards, 32 TDs, 12 INTs 163.65 rating
Strengths: size, arm strength
Weaknesses: accuracy, pocket presence
Much of the focus in the SEC was on Cam Newton this season, and rightfully so. But Mallett also had himself a heck of a season, and he definitely cemented himself as a first-round pick in doing so.
At 6-foot-6 and close to 240 pounds, Mallett definitely has the requisite size of an NFL quarterback. And nobody doubts his arm, as he's shown that he can make all the throws. He has also impressed with his leadership qualities and his work ethic.
But all of Mallett's shortcomings were painfully on display in the Sugar Bowl against Ohio State. His receivers didn't do him any favors by making some crucial drops, but it was also apparent that his accuracy is a little off at times. He was often a statue in the pocket.
Nonetheless, as much as the folks at ESPN like Gabbert, Mallett seems like he has more upside
Pat Devlin
2010 Stats: 2,812 yards, 18 TDs, 2 INTs
Strengths: quick release, touch
Weaknesses: not very polished, very inconsistent
Pat Devlin transferred from Penn State to Delaware in 2008, which is probably why you might not be familiar with his name.
Devlin has the right kind of size (6-foot-3, 230 pounds) to be an NFL quarterback, and he's a fiery competitor and a good leader. He just needs to work on everything else.
Among other things, scouts aren't sure about his accuracy, his arm strength, his anticipation and his presence in the pocket. He is very much a project player, but he could become solid if he can develop the mental part of his game
Ricky Stanzi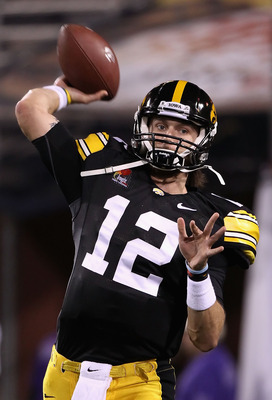 Christian Petersen/Getty Images
2010 Stats: 3,004 yards, 25 TDs, 6 INTs, 157.63 rating
Strengths: leadership, toughness
Weaknesses: delivery, poise, accuracy
Given the fact that Stanzi greatly improved this year from his showing in 2009, it might seem surprising that a lot of people are so down on him as an NFL-ready prospect.
But concerns about Stanzi became well-founded when the Hawkeyes more or less completely fell apart down the stretch. And despite the fact they beat Missouri in the Insight Bowl, Stanzi himself didn't have a very good game.
Stanzi does have a great arm, no doubt about that. But his wind-up delivery and poor footwork have to be corrected, and those aren't the only fundamentals that he needs to work on. Because of this, he projects as maybe a third or fourth-round pick
 Christian Ponder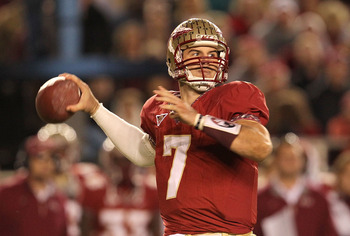 Mike Ehrmann/Getty Images
2010 Stats: 2,044 yards, 20 TDs, 8 INTs, 135.68 rating
Strengths: leadership, pocket awareness
Weaknesses durability, decision making
It was a tough season for Ponder at Florida State. He suffered a pair on injuries, and was out of action for a couple significant games, namely the ACC Championship and the Chick-fil-A Bowl.
Scouts have some concerns about his decision making abilities and his accuracy, and his arm strength is hardly elite. But he makes up for his shortcomings by being a great competitor and leader. As such, even though his skills may not wow people, his makeup alone makes him a promising prospect
 Andy Dalton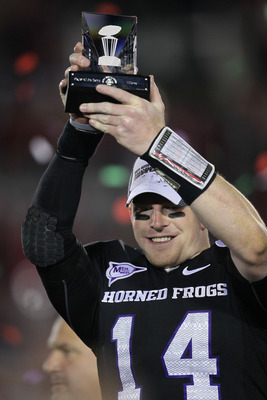 Stephen Dunn/Getty Images
2010 Stats: 2,857 yards, 27 TDs, 6 INTs, 166.48 rating
Strengths: leadership, game management
Weaknesses: size, delivery
Andy Dalton is a born winner, there's no mistaking that. And his performance in the Rose Bowl showed that he can perform on the big stage.
But had it not been for his success at TCU, he probably wouldn't even be in this discussion. At 6-foot-2 and barely 220 pounds, he's a little small for an NFL quarterback. Moreover, his arm strength and accuracy are merely adequate.
Nevertheless, his sheer success at the collegiate level might make him a late second-round pick
Speak your piece. I got these scouting reports this site here